Professor Yoram Yovell, MD, PHD
Israel's Guru of Happiness
Psychiatrist, Brain Researcher and Psychoanalyst
Mark Sunday July 21, 2019 on your calendars!
JFSC, in collaboration with the Canadian Friends of Hebrew University, is proud to announce a unique and very special lecture "The Science of Happiness" with Dr. Yoram Yovell, at the Calgary Public Library, 800 3rd Street SE at 7:30pm.
We all want to be happy – but being happy is rarely what we tend to think it is.
What is the difference between happiness and pleasure? Is happiness an experience or an action? Will love or having children make us happy? How is happiness encoded in the brain?
In this lecture, Dr. Yovell will explore scientific insights into happiness, including research on working women in Texas, and the surprising results of what really makes women happy. He will offer updated tools to help achieve happiness, and explain if happiness is encoded in our genes and if there is a way to change this.
Dr. Yovell is a highly respected psychiatrist, neuroscientist, television talk-show host, international speaker and author of several books. With a Ph.D. in neurobiology, Dr. Yovell speaks to expert and lay audiences about neurobiological explanations of love and other emotions. He works in the Division of Clinical Neuroscience of Hadassah Medical Center, and at the Department of Psychology of The Hebrew University in Jerusalem.
Admission is free however tickets are limited. Reserve yours today, email Calgary@cfhu.org or call 403-297-0605.
This program is made possible by the Dr. Robert Rogow and Dr. Sally Rogow Memorial Endowment Fund.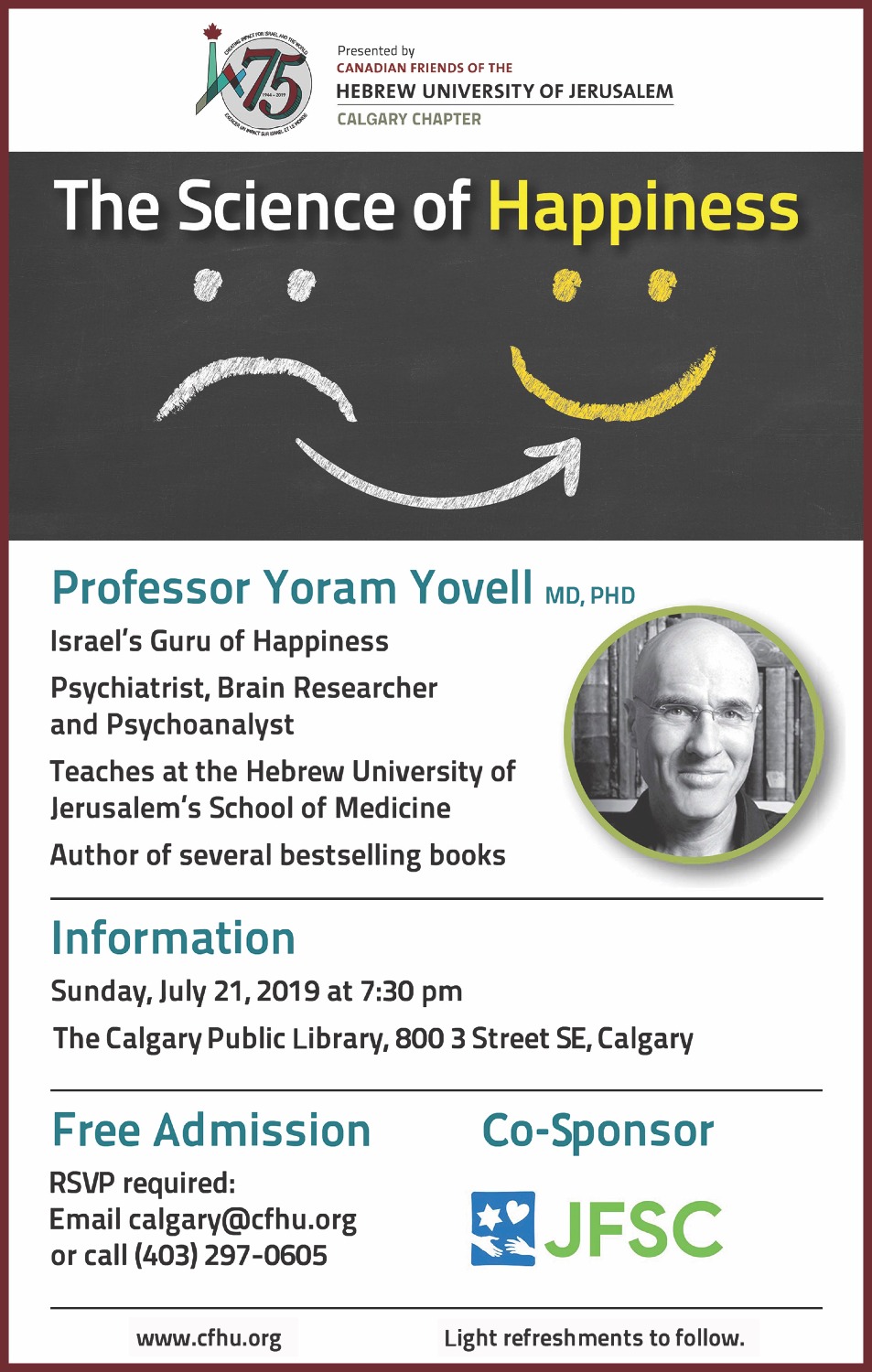 Back to Events Index