Events
Caregiver Discussions – In-Person, Drop-In, Support Groups – Fall 2023

September 15th - December 28th, 2023 from 10:30 AM to 2:00 PM

See details for times and locations, as they vary
Facilitated by a registered social worker from our Caregiver Support Program, Caregiver Discussions is a space for caregivers of seniors and/or persons living with dementia to exchange caregiving and coping strategies and resources.
Participants have the opportunity to bring their own topics for discussion or can request the social worker to provide focused guidance for specific issues.
These in-person, complimentary groups are offered at three Calgary community locations. These are drop-in groups and participants can choose which sessions they attend.
Please note:
There is no charge for these groups
These are drop-in groups and participants can choose which sessions and locations they attend.
Pre-registration is required. To register or for more information, call our intake line at 403.287.3510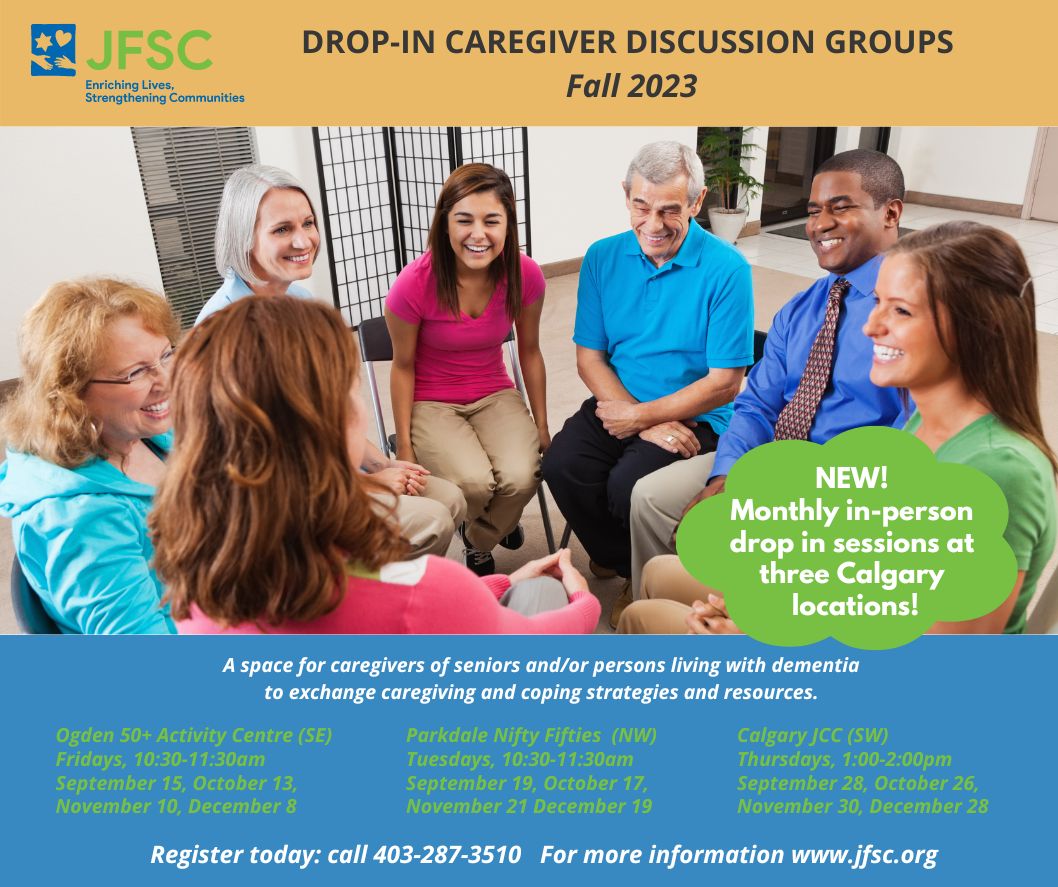 Sessions & Locations
Calgary JCC - 1607 90 Ave SW, Calgary, AB - 1:00-2:00pm (last Thursday of each month)
Thursday, September 28th, 2023
Thursday, October 26th, 2023
Thursday November 30th, 2023
Thursday, December 28th, 2023
​Ogden 50+ Activity Centre - 2102 69 Ave SE, Calgary, AB - 10:30-11:30am (second Friday of each month)
Friday, September 15th, 2023 (note this is the third Friday of September)
Friday, October 13th, 2023
Friday, November 10th, 2023
Friday December 8th, 2023
Parkdale Nifty Fifties - 3512 5 Ave NW, Calgary, AB - 10:30-11:30am (third Tuesday of each month)
Tuesday, September 19th, 2023
Tuesday, October 17th, 2023
Tuesday, November 21st, 2023
Tuesday, December 19th, 2023
Back to Events Index